Faster I/O
Files on your local desktop are mirrored to cloud-based app automatically. Just open the Home on My Mac folder and work as normal.
For even faster cloud-based workflows, connect your Turbo account to OneDrive or Dropbox and access under the T: drive. Data is transferred directly between the Turbo.net and storage clouds for even faster performance.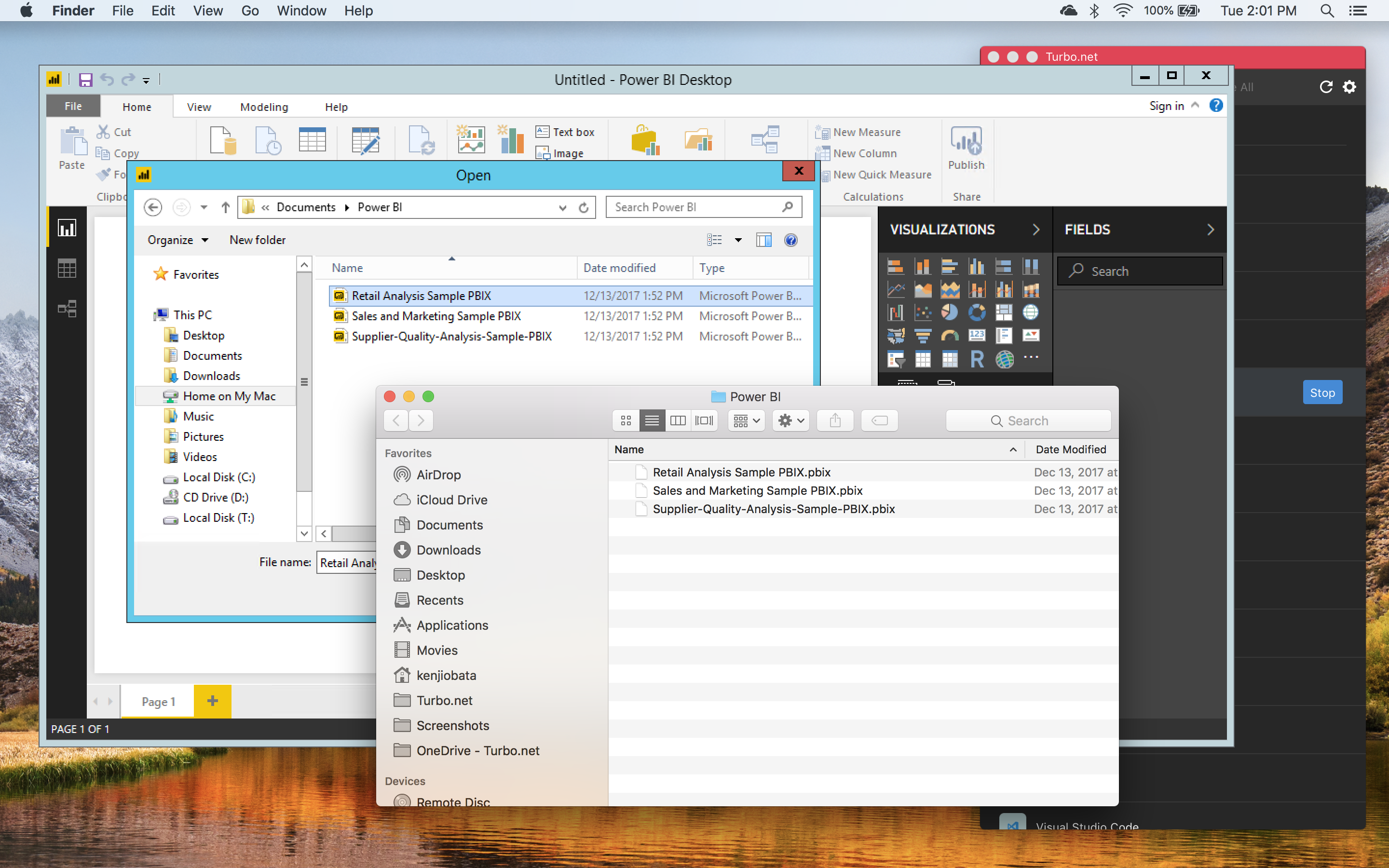 No Comparison
Other Virtual Machine Vendors
Run PC apps without virtual machines

No need to purchase, download, and install Windows

Doesn't bog down your Mac

Thousands of configurable apps ready to use with no installs

Test multiple versions of apps without conflicts

Transfer sessions to PCs, iPads, and Android tablets
FAQ
No. Turbo lets you run PC apps on Mac with no Windows installs.
No. The cost of the Windows® license is included in your Turbo.net subscription.
Turbo runs apps in the cloud, so no virtual machine is required to run on your Mac. Turbo's unique technology makes app behave like natively installed apps, even though they're streaming from the cloud.
This lets you run apps without the slowdowns and memory consumption associated with traditional virtual machine (VM) technology.
Turbo also supports running legacy apps such as Internet Explorer 10 or 9, as well as beta apps, without the need to run a separate virtual machines.
No. Turbo automatically migrates your work to a nearby cloud server and connects your iPad or Android tablet to that session.
Yes. Turbo is great for running legacy browers, plugins, ERP apps, and other line-of-business apps that may require specific versions of Windows®, .NET, Java, or other dependencies.
Turbo supports all major Windows desktop applications and browsers, including applications requiring legacy versions of Java and the .NET Framework; legacy browsers and browser plugins; and major database, web, and application servers.
Turbo also works with most custom line-of-business apps.
Custom apps can be virtualized for use with Turbo.net with Turbo Studio.
To use Turbo for Mac, you'll need macOS 10.11 or higher.